Can you believe it is already Throw-away Thursday? And what happened to Wildcard Wednesday, you might ask. Myth-ing in Action, it was. To tell the truth, I was traveling by car for over 650 miles and since I've been packing and cleaning for several days, I failed you by not having something in the queue ready to go.
Never fear! I will make it up to you by introducing the Sweet Myth-tery of Life, or at least the Myth Adventure series by Robert Asprin (1946 - 2008). Now you will get dozens of books instead of just two.. well, almost dozens.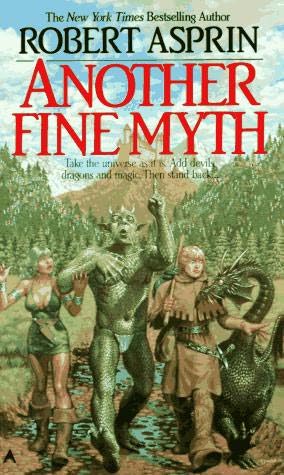 About the series:
Poor Skeeve! He only was learning to become a magician so he could be a better thief. Then, just as his master, Grimble, is showing him how to conjure up a demon, the man falls over dead, leaving Skeeve, a lowly apprentice with a extremely angry demon in the middle of a pentagram. And he has no idea how to get rid of him. Didn't I say he was an apprentice? A very wet behind the ears, green as they come, fresh from the field apprentice. And there is the demon Aahz, complete with green scales and sharp, sharp teeth staring at him.
From this humble beginning, there develops a dependency, partnership, and finally friendship between the demon (short for dimension traveler) from Prev Aahz, and the learning a lot about life Klahd (pronounced clod) named Skeeve. Along the way, they pick up such interesting people and creatures as Gleep, the one worded dragon and a bodyguard named Pookie, who tries to be inconspicuous but she is Aahz's cousin. The series follows this partnership as it becomes a business, giving the whole of several dimensions a fun, er, run for their money.
My take:
Don't forget, this is throw-away Thursday and while this series is quite excellent, you must remember what genre it is in. Are you looking for a light read, full of tongue in cheek dialog, dangerous (wink,wink) adventures and riotous cast of characters? This series will fill the bill. If you are looking for something that will rival Tom Clancy or Stephen King, this is not it.
But fun, it is, as Skeeve trips from one adventure to another. Take Ashz for instance. He is a green scaled monster from Perv, where his people call themselves Pervects but others just call them Perverts. Add Skeever from Klad, who is just what the name says, at least in the beginning and you have the makings of a just for fun adventure series. The names of the various books (Myth-ing Persons; Myth Directions; Another Fine Myth (which for us oldsters from Laurel and Hardy) gives you an idea of the temperament of the series.
This series is dated since it was started in the late 1970's; and yes, I have the original printings of many of the books. I have read that many of the books you can get from Amazon are not reprints but OCR's and not well done. Perhaps you would be better looking for this series in a used bookstore where you can thumb through the actual book.
I loved this series as a light, fun read and recommend it to anyone who doesn't always taking reading seriously. I do believe our younger readers would like this better than our more mature readers, since the writing level tends to be simple. But older readers may catch more of the tongue in cheek references.